Wedding dress alterations are an essential part of the process when choosing the right dress. In most cases (unless you have chosen a bespoke wedding dress tailor-made for you) alterations are required, whether you have decided on a contemporary wedding gown or a vintage dress.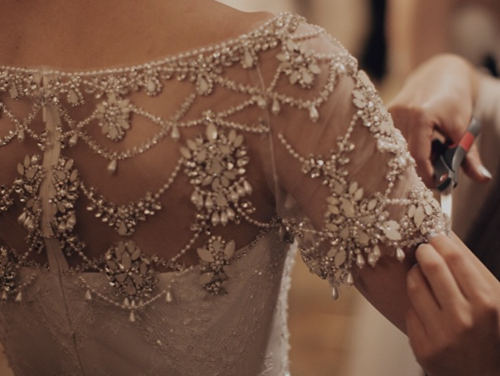 It can feel a little overwhelming getting to grips with the dress alterations process and how it fits with your plans. Alterations Boutique are here to share our knowledge with you! Find out how wedding dress alterations work and how long it will take to get your dress to fit perfectly.
The Wedding Dress Alterations Process
Our highly experienced wedding dress seamstresses are here to guide you through the wedding dress alterations process, but it's also great to do your own research to get a better idea of what the alterations process involves and get a picture of how dress tailoring can fit with your ideas and time constraints. We've put together this dress alterations guide to help you look truly beautiful for your big day!
Types of Wedding Dress Alterations
Just what can a bridal seamstress do to alter or restyle a wedding dress? Of course, you can discuss any alterations ideas you have with your seamstress, but some of the most common alterations we do include:
Shortening or lengthening the dress
Taking in or letting out sides
Narrowing dress shoulders
Reshaping the neckline
General repairs
Wedding dress restyling
Each dress will require slightly different considerations, which we can deliver with our fully bespoke service. The overall complexity of wedding dress alterations involves a few key factors, such as:
Dress Style: As you may have guessed, the more complicated the dress, the more complicated it will be to fully and effectively alter! Alterations Boutique, however, are always up to the challenge, as we have worked with bridal alterations for over three decades and have a full understanding of wedding dress styles and tailoring techniques.
Fabrics: Some fabrics are more complex to work with than others, though our experienced team of bridal seamstresses can work with every wedding dress fabric imaginable. For instance, a dress fabricated from chiffon or lace will require more delicacy than a polyester gown.
Alteration Plans: more elaborate plans usually take longer to execute, so if you're looking for a complete wedding dress restyle or intricate additions, such as brocade, beading, or pearl embellishments, more time may be needed for altering work and fittings.
Regardless of how involved the alteration process, the Alterations Boutique team ensure every dress we restyle or alter is finished exquisitely with attention to detail and finesse. We are passionate about letting every bride walk down the aisle with the perfect dress!
Fittings to Fit Your Timeline
Beyond deciding what need to be done to the dress, you will also need to plan the wedding dress alterations process to fit your wedding timeline. In most cases, multiple fittings are required to ensure your dress is perfect for your big day, so you will need to leave enough time to attend each fitting.
The number of fittings needed depends on the complexity of the planned alterations. Ideally, you should allow two to three months from your first fitting to your last, while not having the final fitting too early as you may gain or lose weight from then to your wedding day.
Wedding Dress Restyling
Would you like us to completely change the style of your dress, whether it's a modern purchase or a vintage gown? With wedding dress restyling, a bridal seamstress can completely transform a dress, reworking fabrics and opening hems to achieve the look you desire. With an experienced seamstress at your side, there really are few limitations to what can be achieved with wedding dress alterations.
Your Wedding Dress Altering Experts
Ready to start your wedding dress alterations journey with an experienced team? Alterations Boutique are leading Manchester dress alterations experts who are perfectly placed to alter a range of wedding dresses. Get in touch to find out more about our bridal services.